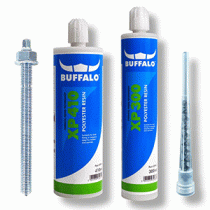 Chemical Anchor & Chemical Fixings
Over the years the use and application for pump-in resins has grown considerably. A wide range of resins has been introduced for specific applications and conditions.
Both engineers and contractors have seen the benefits of resin anchors in offering stress free fixings that can be installed closer together, nearer the edges and at varying embedment depths. The following resins should provide the answers to most fixing applications or requirements. Howeve, should you have any queries regarding this we will be glad to assist, please call 01743 344 766.