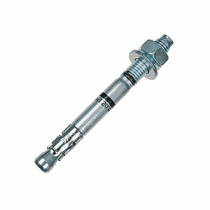 Throughbolt Anchor
Throughbolt anchors are designed for use in concrete or dense natural stone with a strength greater than 20N/mm² and are probably the most widely used fixing bolt in today's market.
The throughbolt requires a hole in concrete the same diameter as the bolt, thus allowing the hole to be drilled through the fixture avoiding lengthy marking out procedures.
Throughbolts are a versatile, cost-effective anchor combining ease of installation with good load carrying capabilities.
When selecting any fixing bolts the following factors must be considered.
Thickness of fixture including any packing
Non-structural screed must be included in the fixture thickness
Compressive strength of concrete
Distance from any edge
Centre to centre distance of anchors
Type and direction of load applied