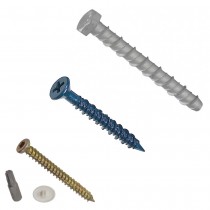 Concrete and Masonry Screws
A range of multi-substrate concrete screws and bolts. Includes hex head, hex flange, countersunk and pan head option, as well as hook and eye screws.
Multi-substrate bolts can be used in; concrete, stone, brick, marble, wood, block. A rapid, effective, non expanding and removable anchor that does not require any special tools to fit.