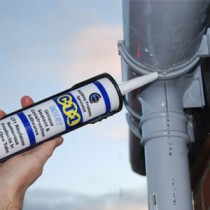 CT1® the ultimate in sealing & bonding
CT1® the ultimate development in sealing and bonding indoor and outdoor.
The problem with conventional silicone sealant is that they are packed with solvents and they start to shrink while curing this is because the solvents are evaporating and over time they will eventually breakdown and crack then let water in. This will not happen when you seal with CT1 Sealant it has no solvents in it and is guaranteed never to shrink or crack.