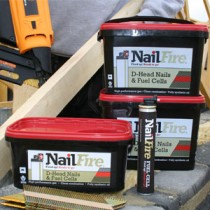 First Fix Framing Nails
NailFire nails are designed for use in a wide variety of cordless 34° clipped head framing nailers and 16 gauge finishing nailers - and comply with the specifications for many of the tool manufacturers operating instructions.
NailFire can be used without compromising EN792-13: 2000 7.2.1a
All Products in the NailFire range are sold in one piece strengthened branded boxes for market appeal and instant quality recognition.
Framing nails are typically for structural work. Such as timber frame erection, roofing, stud wall partitioning and many more first fix applications. Exceptions to this would be fencing and decking.