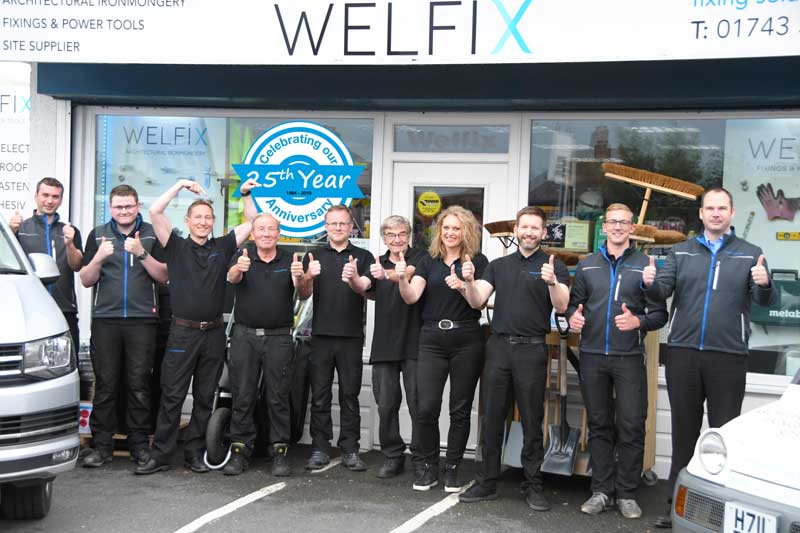 Much-loved Shrewsbury business Welfix is proud to be celebrating 25 successful years in business, having first opened its doors on 1st August 1994. The family-run business based at Monkmoor Road, now employs a team of over 10 staff members, servicing the needs of local allied trades and construction industries; offering a wide product range including: fixings, fasteners, hand tools, power tools, builders metal work, architectural ironmongery, silicones, sealants and much more.
"Our customers are at the heart of everything we do, and we always try to accommodate their needs" said General Manager, Simon Ruhe. "Many of our clients have been with us throughout our 25 years, and we are grateful for their loyalty and support, as I believe there's no greater endorsement, than repeat business."
"It is thanks to the continued support from our staff and customers that we have sustained a prosperous trade in the heart of the Shropshire. We work with a great number of wonderful local trade professionals and businesses and would like to extend our gratitude to them for their ongoing support over the years."
From the early days, the business has continued to grow steadily and has developed an excellent reputation for quality, stock availability, technical backup and a personal service.
We are proud to offer a wide range of traditional brand names, quality alternatives and totally unique products for the tradesman. We're more than just a trade counter... with over 4,000 square foot of stock and an excellent team spirit, we are committed to offer everything your industry requires, delivered to your premises or direct to site at a time convenient to you.
Posted: Thursday, August 1, 2019
« Back to news